HIBISCUS Travel, your Destination Management Company based in Marrakech
Expert in this field, we operate with conviction and strong will to innovate, to create new products and assume the responsibility of their execution with perspicacity and professionalism. Surrounded by a young and well-formed staff, we invite you to share our passion to handle new operations and guarantee their success.
Put us to the test for your next projects on Morocco destination in the following fields :
Incentives
Seminars & Congresses
Events
Tours
Stays
Golf
Tour
Cultural Tour
7 nights / 8 days
Seminar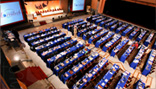 Weekend Seminar
Friday arrival
Sunday departure
Golf
The golf courses in Marrakech
Morocco
Welcome to Morocco, a land rich in culture, shaped by the vigor of history. Fanciest change of scenery. At any time in the year, you will be astounded by the wide range of experiences Morocco has to offer, from sumptuous palaces and vast gardens to the souks from which escapes the exotic fragrance of the spice. In just few hours, you can travel from the snow covered peaks of the Atlas to the sands of the desert and to the beach ranges from the Mediterranean to the Atlantic.